Finding yourself in a sticky situation with the law can be scary, especially if you're not sure what to do or what you can say. Knowing your rights is important so that you can stand up for yourself and protect yourself while being respectful of the law and law enforcement. 
So can I question the cops if they arrest me and what can I find out about the officer that arrested me? You do have the right to ask why you are being arrested, but most of the time it's best to submit to the arrest, call your lawyer, and remain quiet. As something you say may be incriminating.
This may seem confusing or maybe just not the answer you were hoping for, especially if you think something you are saying or would say would not be incriminating. That's why in this article, we will explain what to do if you're ever arrested or in a situation with a cop and aren't sure what to do, so keep reading to find out what to say and do!
Can I Question the Cops If They Arrest Me & What Can I Find Out About the Officer That Arrested Me?
Being stopped by the police is stressful and can go bad very quickly. If you are ever arrested, you need to know what you can and can't do – and how it can help or harm you. 
When a police officer arrests you, they should read you your Miranda Rights which state "anything you say can be used against you in a court of law." To be clear, this means if you feel you need to question the reasoning behind the arrest, you are free to do so; however, whatever you say can be used against you.
After being arrested, you may be feeling out of control and like you don't have enough information to understand the situation. If this is the case, you will be wondering what you can learn about the police officer that arrested you. Through public records searches, you can find out quite a bit of information about the police officer that arrested you. Let's find out more.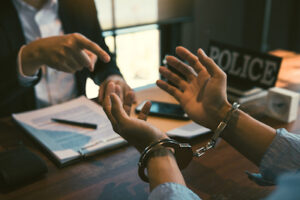 What to Do When You Are Arrested
Remain calm, stay quiet, and invoke your rights. Whether you are stopped while driving down the road or the police have an arrest warrant delivered to your home – these three things remain constant. Remain calm, stay quiet, and invoke your rights.
Do not resist the arrest, avoid saying anything or letting your emotions get the best of you, and call or request an attorney as soon as possible. You have the right to remain silent and apart from providing your name and requesting an attorney, it would be smart to do so. 
If you have been arrested, you have the right to make a phone call. Hopefully, you choose to call an attorney, and if so police cannot listen. If you make a phone call to anyone else, they will likely be listening in so be sure not to say anything incriminating.
Do your best to remember and write down all the details of the arrest to give to your lawyer. Things like the police officer's name, patrol car number, where the arrest happened, what was communicated to you (Miranda Rights, the charges, etc.), and how the arrest proceeded. 
While you have the right to ask why you are being arrested, i.e. what the charges are, most of the time it is best to submit to the arrest, call your lawyer, and remain quiet. Sometimes, something you think is not incriminating can be, so staying as silent as possible is the best thing you can do.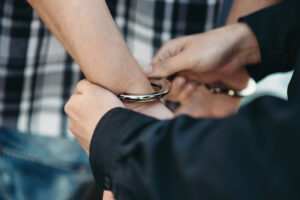 Work With an Attorney After an Arrest
Do not try and figure out the situation on your own. If you are unable to afford a lawyer, one will be appointed to you so that you can defend your rights. You should do everything you can to recall the details of the arrest so that you and your lawyer can put together a strategy for your case. 
Chances are you are not being arrested randomly – there is a reason behind the arrest and you will likely know what the reason is. You will need to explain to your lawyer what is going on – they are there to help you and they can only do that if they know the whole story. 
Once you have been arrested and booked, you can request to make a phone call. Hopefully, you remember the number of your lawyer or a friend/family member who can contact your lawyer for you. When making this call, remember that the police may be listening so simply state what happened and that you need your lawyer to come to the police station. The best thing you can do when in an arrest situation is to not panic.
Find Out More About the Police Officer that Arrested You
In the United States, there are many rights afforded to citizens. Included in this are public records. You have the ability, though somewhat limited, to inquire and search public records for information on other people (which includes police officers). 
Whether you go online or to the courthouse, there are several types of information available to you and the public. Information such as arrest records, speeding tickets, marriage records, court records, lawsuits, family tree records, official records, police arrest records, and so much more are available to you if you know an individual's first name, last name, and location.
Searching public records and finding out more about the police officer that arrested you can help you and your lawyer when building your case. You may find valuable information that could back up your claim that you were wrongly arrested or treated unfairly by the arresting officer.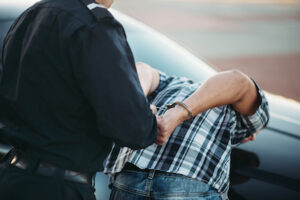 Dealing With an Arrest
Hopefully, you are never in a position to be dealing with an arrest, but if so, I hope this article helps you when faced with the situation. Remember to remain as calm as possible and invoke your rights by remaining silent and contacting your lawyer. Conversations with your lawyer are confidential and they will advise you on what you can say to the police if you are being questioned. 
While the arresting situation is likely extremely overwhelming and emotional, cooperating while protecting your rights is the best way to move past the situation and toward a solution. Cooperating simply means complying with the arrest without resisting until you can speak with your lawyer. 
Trust your lawyer – they are on your side, but they can only help you if they know the full story. Even though it is scary and potentially unexpected to be faced with an arrest, stay calm, invoke your rights, and call your lawyer.
Related Questions
What Should I Do as A Bystander Witnessing an Arrest?
Hopefully, if you are a witness to an arrest, you won't need to do anything. But, if you think you are witnessing police abuse or brutality, there are some things you can do to protect yourself and the individual being arrested. 
Stay back at a safe distance and bring your phone out to record the incident. Do not interfere, simply observe and record. Police do not have the right to confiscate or demand to view your recording without a search warrant, but you also don't want to be arrested yourself. This is why staying back and not interfering is so important. 
You can also call the police and talk to the dispatcher about what you are viewing and request for more units to be sent to the location if you feel things are getting out of hand. If you are unable to record the event, be sure to write down everything you remember. This includes police names, badge numbers, patrol unit numbers, which agency the officers are from if there was the use of weapons, injuries suffered during the arrest, and anything else you can remember. 
We all have rights as a citizen and we all have the right to protect them. Be a friend to police and respect law enforcement, but be aware of your rights and do what you can to protect anyone you feel whose rights are being violated.
What Are the Miranda Rights?
Police officers are required to give a "Miranda warning" to detainees. The term "Miranda Rights" came from a supreme court ruling that says a defendant cannot be questioned by police until they are made aware of the right to remain silent, the right to consult an attorney and have them present during questioning, and the right to have an attorney appointed if they cannot afford one.
There are 5 Miranda Rights and they are:
You have the right to remain silent.

Anything you say can and will be used against you in a court of law.

You have the right to an attorney.

If you cannot afford an attorney, one will be provided for you.

Do you understand the rights I have just read to you? With these in mind, do you wish to speak to me?
While you can waive your Miranda Rights, it is almost never a good idea. You should contact an attorney as soon as possible and remain silent until after speaking with them.