Do You Have to Pay Out of State Speeding Tickets?
If you're like me, you enjoy taking long road trips. Sometimes, though, you don't know the speed limits of certain cities you're driving through and you end up with a speeding ticket. Now you're wondering can I ignore it or choose not to pay it? The answer to these questions can get a bit complicated.
What happens if you ignore a speeding ticket from another state? You might face serious legal ramifications, license suspensions, potential arrest warrants, and/or large fines if you choose to ignore a speeding ticket issued from another state. You are always responsible for paying a traffic ticket, though contesting it or ignoring are still choices you can make. The decision for whether or not you choose to pay your ticket may depend on the issuing state and if it reports traffic tickets to other states' DMVs.
Keep reading to find out your options on how to handle an out-of-state speeding ticket.
Ticket Reporting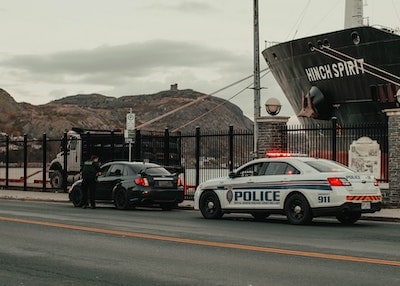 Depending on the state issuing your speeding ticket, two things could happen. The issuing state will report the ticket to your home state, or the issuing state will not report the ticket to your home state. If the ticket goes unreported; however, you could face an arrest warrant in that state if caught again.
The Driver License Compact (DLC) and Non-Resident Violator Compact (NRVC) are the two main organizations that share data about traffic offenses:
DLC: Members of the DLC are required to report traffic ticket offenses to the state where the driver is licensed. The home state will then decide if the traffic offense will be added to the drivers' record and if points will be assessed.
NRVC: Members of the NRVC are required to suspend the drivers' license of individuals who receive traffic tickets in other states and fail to pay them.
Again, make a note! If you ignore an out-of-state speeding ticket and return to the state, you are entering at your own risk. There is a good chance that there will be a warrant out for your arrest. Unless you feel confident about not returning or getting caught, it would be better to pay the ticket or contest the charges.
Know the Rules!
Every state has its own rules, requirements, and way of reporting traffic tickets. In recent years, an interstate agreement has been created so that if a driver gets caught in one state, they can contact the driver's home state and make sure a ticket isn't being ignored.
There are a few states who have opted out of the agreement. This doesn't mean there will be no consequences for getting caught speeding. Some of the non-member states may have harsher punishments for drivers – like immediate license suspension or warrants for arrest.
If you decide to ignore the speeding ticket you received while driving through Georgia, Massachusetts, Michigan, Tennessee, Wisconsin, or Nevada – you better make sure you know the potential consequences.
Contesting Out-Of-State Speeding Tickets
After receiving a traffic ticket, you are required to pay it in the county or state where it was issued. This makes out-of-state tickets difficult to contest and often more expensive. There are many ways to fight traffic tickets. It is important to note that these methods will become much more difficult to pursue if you fail to act before the date on your ticket passes.
Because of travel expenses and lawyer fees, it would likely be easier to just pay the ticket. If you do choose to move forward with contesting the ticket, though, it would be wise to hire a traffic ticket lawyer from the issuing state to represent you. Most states will allow your attorney to appear before the court on your behalf – without you needing to be there.
The bottom line is, you have the right to contest an out-of-state traffic ticket. You may even get the fine reduced with the right lawyer! But you should know that attorney fees and/or travel expenses may not be worth it. Sometimes paying the ticket is the easiest and least expensive way to go.
Potential Ramifications of Out-Of-State Speeding Tickets
Any traffic tickets received while driving in another state will not just go away. Your ticket will have the amount you owe and a date – typically 30 days away. During this time, you will be required to complete the payment. If you ignore the ticket and do not take any action before the specified date, your expenses will begin to escalate.
Misdemeanor charges, failure to appear charges, license suspension, and worst-case scenario arrest warrants are all possible ramifications of ignoring your out-of-state speeding ticket. It all depends on previous offenses and the severity of the ticket you received.
Misdemeanor: a misdemeanor requires you to answer the ticket in criminal court; typically you will only be charged with a misdemeanor if you were driving with a suspended license or expired registration.
Failure to appear: if you fail to appear in court to pay your traffic ticket, you can be charged with a fine in addition to the ticket, and/or your license may be suspended or revoked.
License suspension: the number of points against you in a certain time period can lead to your license being suspended; if you drive with a suspended license, you could be arrested; typically, you must pay a fine, attend a class, or wait a designated period before your license can be reinstated.
Arrest warrant: a warrant can be issued for your arrest if you fail to pay a traffic ticket within the designated time period, fail to appear in court, are caught driving with a suspended license, or are caught with more than one traffic ticket in your name unpaid.
Ignoring a speeding ticket escalates as time passes and if you are continuously violating traffic laws. Your costs will increase and the ability to recover your losses becomes more difficult. If you receive a traffic ticket, either pay it or contest it before the designated date.
How Speeding Tickets Affect Car Insurance
Will my auto insurance get more expensive if I ignore a speeding ticket? The short answer is yes – your car insurance will get more expensive if you receive a speeding ticket or other traffic violation and especially if you ignore paying those fines. Typically, your insurance rate will go up by about 25%, or on average about $354 more than a driver with a clean record.
Today, more and more insurance companies are creating clean-driving or safe-driving rewards. This means that if you drive safely for a certain amount of time without any accidents, you may receive a discount on your insurance. Getting a speeding ticket will immediately take away this potential discount. Depending on your insurance, it could raise your rates for a long time.
Most insurance companies will maintain a certain rate after an accident with a trucking company or ticket until a reasonable amount of time has elapsed. Usually, you will get the chance to return to a fair rate after passing that time without any other violations.
Lesson Learned
Many individuals without clean driving records will tell you – if you can afford to pay the ticket, do it! Insurance expenses and car-buying credit problems can hinder you for a long time. Set a goal to drive more safely and reap the benefits because there are many.
Do you remember that time you got a ticket for speeding while on vacation? It put a damper on the whole trip and now you'll always have that memory. Instead of losing money paying ticket after ticket, clean up your record, and drive responsibly. Good luck!
Related Questions
How long before points on your driving record disappear? Depending on the state in which your license is issued, points may disappear after a certain number of years have passed without incident. Different violations will incur a different number of points, again depending on the state.
Points can stay on your record for 1 to 10 years depending on the violations and state laws. On average, points will stay on your record for 2-3 years. However, if the tickets you receive are due to DUI or more serious offenses, you could receive an automatic license suspension.
Unfortunately, the only way to get rid of points on your driving record is to let time pass without receiving any more violations. Insurance typically has its own point system in which to assess your rates and can follow a different timeline.
Is an out-of-state speeding ticket more expensive? Oftentimes, out-of-state speeding tickets will be more costly than one from your home state. Not because of the fine on the ticket, but because of travel expenses or lawyer fees from contesting the charges.
For the most part, the expense depends on how far over the speed limit you were driving. And, in some cases, the size of the town you got pulled over in. Some small towns will set up speed-traps for out-of-towners.
Thank you for reading Legal Blaze! You can find more simple legal information here.