What Is Litigation Law?
The legal world is a far-reaching, complex system that can be difficult to understand. With different specialty areas like oil and gas, estate planning, criminal defense, and litigation – it can be hard to keep it all straight. In this case, we are talking about litigation law, what it is, and when it is used. I've gathered some information for you to answer these questions, and more.
So, what is litigation law? Litigation is a term that refers to the process of resolving disputes by filing a complaint through the public court system. Many people relate litigation to actual trial work, but the reality is, it begins long before a trial begins. You can determine whether a legal matter falls under litigation by whether or not it would be solved by a lawsuit. If both parties are in conflict and an agreement cannot be reached outside a court of law, that is when an attorney should be retained and a lawsuit filed – therefore, becoming a matter of litigation.
Just like other types of legal cases, litigation follows certain sets of rules – which can vary from state to state. We talked to the legal experts at Whiting & Bruner to get a better sense of the types of cases that could fall under litigation law. We will also discuss when you might want to pursue litigation and when solving a case out of court is a better idea.
The Litigation Process
Most legal disputes begin when the parties discuss the issue directly and it becomes clear that a solution will not be reached. This is when attorneys will be contacted, and they will then determine the best way to proceed. After the attorney has investigated the issue, they will typically send the other party a "demand letter". This will detail what the other party must do to avoid a potential lawsuit. These demands could include ceasing an action, amounts of money, discussing terms of a contract, etc.
The party receiving the letter can then decide to meet the demands, negotiate a different demand, or take no action at all. At this stage, many people decide to settle the case outside of the court. This is because the threat of a lawsuit can push them to cooperate or try to reach an agreement.
The Discovery Process
If it is determined that a dispute cannot be settled outside of court, one of the parties will file a lawsuit. After the lawsuit is filed, each party conducts a "discovery". This is the mandatory exchange of documents and other evidence related to the parties and the dispute. During this stage, depositions may take place and when the bulk of the litigation work occurs.
Once the discovery phase has concluded and each party reviews the information, the defendant will likely file a motion for summary judgment. A judge will rule on whether the law recognizes the situation as the defendant being held responsible. If they agree, the case is over and the plaintiff loses. If they deny the motion, the case will go to trial.
Both the pre-trial process just explained, and the trial itself can take anywhere from a few weeks, to months, to years until a solution is agreed upon. And, the losing party will have the right to file an appeal, which can drag the process on even longer.
Common Types of Litigation Cases
Not only are there many different areas of law, but there are also many different areas of litigation. Here are the most common types of litigation cases you will see:
Personal Injury Claims: the plaintiff will ask for compensation for damages caused by actions committed by the defendant, the argument is often based on negligence, intentional wrongdoing, or strict liability; car accidents, medical malpractice, animal attacks, and fraud all fall under this umbrella.
Equitable Claims: a party will ask the court to issue orders to another individual or entity to either halt or take a specific action; restraining and reprieve orders against the defendant are common here.
Contract Disputes: the failure to fulfill the terms of a contract can result in the plaintiff asking for compensation for the nonfulfillment of the contract; non-delivery of paid purchases, violation of business agreements, and failure to follow employment agreements are typical contract disputes.
Property Disputes: both ownership and property boundaries can be argued in property disputes where the court can offer monetary compensation, restriction orders, or enforcement of certain boundary lines.
Divorce and Family Disputes: family law concerning divorce, legal separation, child custody disputes, etc. are extremely common under litigation law; the court will rule on the separation of assets, custody, spousal and child support, etc.
Class Action Suits: under a class action suit, a lawyer will represent a whole group of people that are filing for compensation against an organization; types of class action suits could include injury incurred due to a recalled product, failure to disclose important information, etc.
Should You Pursue Litigation or Settle Out of Court?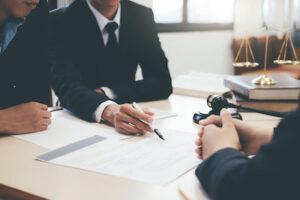 Sometimes, dealing with people and organizations can be extremely challenging. This is especially true when you feel you've been wronged.
When it comes to deciding whether or not to pursue legal action, it's important to think about the costs and the potential benefits that can come from a litigation case.
Lawyer fees are not cheap and the litigation process is often tedious and time-consuming. You must consider if the benefits. These must outweigh the cost of lawyer fees, or if negotiation and settlements can be made outside of court.
Sometimes reaching an agreement can be unavoidable. Your attorney should always attempt negotiations via demand letters and settlement discussions before pursuing a lawsuit. 
The idea of a lawsuit can push many people to agree to certain terms. Either because they know they are in the wrong and want to avoid the public, or they think they can offer you less money in a settlement than what the court would order, or any number of reasons. Your lawyer will know if their offer is acceptable or if you would benefit from a trial.
Consult An Attorney
Understanding the process of litigation is one thing. Talking with an expert, however, will give you a better sense of how to proceed. You may have to pay for a consult. However, it can be worth it to determine whether or not your case needs to move forward to litigation, or if there is a way to settle the disagreement.
Do your research before choosing a specific attorney. You need to be able to trust that they are working in your best interest, that they have experience in your area, and that they are successful in what they do.
Legal proceedings are often overwhelming and intimidating. Now that you have a sense of what litigation and filing a lawsuit may look like, you can feel better about the person you hire and the outcome you want. Don't let the process prevent you from fighting for what you believe is right and what you think you deserve.
Your attorney works for you. They are the expert and will give you good advice. However, at the end of the day, you still have a say in what you want to happen.
Related Questions
What Type of Law Is Not Considered Litigation?
Not all court cases are considered litigation. Non-litigation matters are handled by attorneys practicing "transactional" law. This is a type of practice that deals with business and commerce. Lawyers will help their clients deal with contracts and other types of transactions. Transactional law is typically resolved outside of court. 
These types of cases would include property sales, business formations, estate planning, business deals, etc. Transactional attorneys will assist their clients in drafting wills, leases, employment agreements, loan documents, tax exemption documents, and drafting other policies, licensing documents, and more.
What is Arbitration?
Arbitration agreements are typically included in consumer contracts or employee contracts. They often will declare that you will agree to settle out of court any dispute that arises with your counterpart. 
In arbitration, a neutral arbitrator will act as a judge who will decide to end the dispute. These arbitrators are often retired judges, but the process of arbitration is much more flexible than litigation cases in court.
The parties will, together, choose an arbitrator to preside over the case which will be held in a private conference room at a neutral site. Ground rules for the case will be stated by the arbitrator before each party makes their opening statements. Evidence is presented and witnesses may appear if necessary. After closing arguments, the arbitrator will issue a decision.
In many ways, you can see that arbitration is similar to litigation and trial; however, it is much more flexible and often takes less time to reach a solution. Arbitration usually cannot be appealed, is kept confidential, and can result in more creative rulings. A bonus? It is almost always less expensive and less time-consuming.