What Happens When a Spouse Doesn't Want a Divorce?
Divorce is a complex issue and a very personal decision. It should be a decision that has been well thought out due to its lasting effects on those involved. As it can be a difficult and emotionally challenging process for both spouses, but when one spouse wants a divorce and the other does not, what happens when a spouse doesn't want a divorce?
This complex situation requires careful consideration and open communication, so be clear about this decision to your partner. However, if your partner still will not agree, you can still have a divorce, but it will be a longer process. So you will need to get an attorney for legal advice and representation.
In this blog post, we will explore the challenges that arise when a spouse doesn't want a divorce, and provide guidance on how to navigate this difficult situation. Whether you are considering divorce or are already in the midst of the process, this post will offer insights and advice to help you make informed decisions about your future.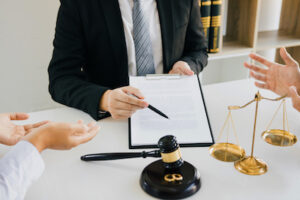 When a Spouse Doesn't Want a Divorce
If you have a spouse that does not want a divorce to prepare yourself for a journey. However, speaking to your spouse and being clear as to why you what this divorce is critical. Detail with them that you have exhausted all possibilities of making the marriage work. Do not send mixed messages. Let them know that you would prefer a cooperative and amicable divorce. Even in doing all of this, your spouse may still be uncooperative. At that point, realize that you most likely will have to complete the greater part of the work for the divorce proceedings.
What to When a Spouse Doesn't Want a Divorce
You can still divorce your spouse even if they are in disagreement. It is best to get, at minimum legal advice, but you most likely will need to hire a good lawyer. Your attorney will be able to draw up the proper paperwork and help you through the process. They also will be able to give you all of the options available to you specific to your situation. Your spouse should be served with divorce papers to begin the divorce proceedings. Some states require that you have already started the separation process to proceed with the divorce.
If your spouse is making it difficult to be served with the divorce paperwork, you will have to make a reasonable effort to allow them to be served, and then other measures can be taken to allow the divorce to proceed. You will be required to get certain documents regarding your financials and assets from your spouse. If your spouse is unwilling to give you the documents, you will have to subpoena third-party individuals and companies to gather the information. This can make for a lengthy and costly process. If your spouse continues to ignore the court and the proceedings, they could be held in contempt of court and even face jail time. This can be a long and challenging process. However, the end goal will be worth it for your peace and happiness.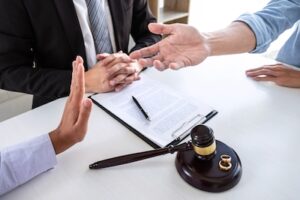 Does My Spouse's Behavior Limit My Options?
The answer to this question depends. It depends on how uncooperative your spouse may be. Inevitably you will have to go to court to end your marriage. If your spouse were more cooperative, you possibly could attend mediation or have a "collaborative divorce". However, if your spouse is unwilling to participate, you must depend on the judge to proceed. This is where having a competent attorney is best. Your attorney will help mitigate undue stress associated with not knowing how to navigate the legal system. If your husband is not served with divorce papers and refuses to appear in court, your attorney will have to move for a default since he fails to appear. The judge will give your spouse multiple opportunities to appear in court to defend themselves and participate in the proceedings. However, if this does not happen, the judge will split everything fairly and grant you a divorce by default.
Should You Have a Prenuptial Agreement?
When couples go through a divorce, some wish they had prepared a prenuptial agreement (aks prenup) at the start of the marriage. If you are an individual with many assets, it is good to have a prenuptial agreement. As it could save you headaches and worry in the long run. Divorce can affect your assets in a negative way. If you or your spouse came into the marriage with wealth, assets, or a business, a prenup could be the wisest course of action. A prenuptial agreement will designate in the beginning which assets each individual owns in the marriage. It will establish property rights and distribution and limit your exposure to your partner's debt. We do not get into marriage expecting it to end. However, if you have a responsibility to others due to your assets or businesses, it is prudent to consider this as an option.
Conclusion
In conclusion, there are some actions you should take if you are in a situation where your spouse does not want a divorce. Firstly, be clear about your decision to your spouse. Next, consider getting legal advice or representation. Prepare for a more expensive and longer divorce process since your spouse is uncooperative. Work with your lawyer to get all the proper papers drawn up to be served to your spouse. As you move along in the process and your spouse sees that divorce is inevitable, they may be more cooperative. Stay patient, persevere, and be resilient.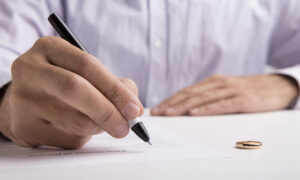 Related Questions
How do you find a good divorce attorney?
You do not have to have an attorney to get divorced. However, it is greatly recommended. To find an experienced divorce lawyer, first, begin with word-of-mouth or referrals from friends or family. Depending on your situation, you might need to find an attorney specializing in something that might become an issue in your particular divorce, like custody arrangements or division of assets. You will also want to know your attorney candidate's costs and billing procedures. Finally, you will need to interview attorneys to find the one who will fit your situation and needs. This task is not impossible, but it will take your time and thoughtful consideration.
How do you help your children through the divorce?
Divorce is a complicated issue that children often do not understand. As a child, they can blame themselves for what has happened. Divorce can be extremely traumatic to a child of any age. Ways to help your child through the effects of divorce are to stay involved in your child's life. Next, do your best to co-parent well with your ex-spouse. Remember, the child did not ask for this divorce, yet they have to face the consequences of it with the rest of the family. Communicate honestly with your child and limit the negative things you say about the other parent. Finally, take care of yourself and engage in family counseling. Counseling can be beneficial for the whole family. Counseling can help you and your child process emotions from the trauma of divorce. A counseling professional can make this time in your life easier and provide the needed coping mechanisms and time to listen to help you and your family through this difficult time to find healing.
How to deal with feelings of guilt due to divorce?
Divorce is never easy. When you get married, you never prepare for divorce to happen. You are in hopes your marriage will last for your lifetime. If you are the initiator of the divorce, you could feel guilty. However, feelings of guilt could arise for anybody, even if it is an amicable divorce. You must realize that not just one person caused the marriage to end. Both parties had a part to play. You can look back at your marriage objectively and realize the mistakes that each spouse made. In the end, who starts the divorce proceedings is inconsequential. The fact is that the marriage failed. As soon as both parties realize their contribution to the marriage ending, the more the feelings of guilt subside. When you have a spouse that is against divorce, their passive-aggressive behavior is a manipulation tactic to hurt the other person. You must find the strength to carry on.